What is the Virtual Fair of Anticorruption Initiatives? It is a virtual contest where members of the #NationalHubs
Anticorrupción will tell in a short video their initiative to fight corruption in their country.
The three civil society organization or social actor whose initiatives receive the highest number of "likes" will have the opportunity to showcase their work on the different communication platforms of the Summits Secretariat and to participate in a virtual activity for the exchange of experiences and best practices.
GUATEÍNTEGRA
The Chamber of Industry of Guatemala presents GuateÍntegra, an initiative that seeks to educate and train citizens to be actors and not just spectators in the building of a transparent Guatemala.
BUILDING BLOCKS TOWARDS INTEGRITY IN BARBADOS
The Integrity Group Barbados presents its initiative Building Blocks Towards Integrity in Barbados. This initiative was created to build greater awareness on issues of responsibility, transparency, integrity, and good governance in Barbados.
STATUS REPORT ON JUSTICE
This initiative seeks to increase awareness of the reports prepared by a group of civil society organizations, from a citizen standpoint and from the international standards perspective, protected under the Political Constitution of the Plurinational State of Bolivia, which guarantees organized civil society participation and public oversight.
TRAINING IN LAW 1474 AND ISO 37001
Logox Conocimiento e Inteligencia of Colombia presents its initiative "Training on Law 1474 and ISO 37001" that seeks to train public officials on these norms, managing corruption risks in public and private organizations.
ANTI-CORRUPTION OBSERVATORY
Anti-corruption Observatory is an initiative presented by Espacio Público. This platform tracks anti-corruption initiatives and measures public officials' compliance with them. This platform provides decision makers, citizens, and the public opinion at large with simple and up-to-date information.
NEW LAWS OF TRANSPARENCY AND PROTECTION OF PERSONAL DATA
Fundamedios of #Ecuador presents New Laws on Transparency and Protection of Personal Data, an initiative that promotes the approval of legislation that guarantees transparency and allows to protect the personal data of citizens.
INTER RELIGIOUS ORGANISATION OF GUYANA (IROG)
IROG presents 3 initiatives. 1) Civil & Criminal Justice Committees that supervise magistrates and superior courts seeking to improve their efficiency 2) Peace Pact & Code of Conduct, in which civil society promoted peace initiatives for the general elections, instructing a code of conduct for each electoral period, and 3) Country Coordinating Mechanism, that supervises the implementation of activities related to HIV / AIDS, tuberculosis and malaria.
STRENGTHENING EITI PERU: ONLINE SYSTEM FOR TRANSPARENCY
This platform automates the content of national EITI reports and provides transparency in the flow of information in the value chain of extractive operations. The platform shows the reconciliation, the payments that the mining, oil and gas companies make to the government, and the income that the government receives from these companies.
ÍNDICE DE CONFIANZA EN LA JUSTICIA
Fores Justicia introduces its initiative Confidence in Justice Index. This index operates as an X-ray of the Judiciary: it reveals its problems, the possible causes and provides data to work on solutions.
CAMPUS TRANSPARENCIA
Campus Transparencia is a virtual training platform, an initiative of Transparencia Venezuela. This platform promotes access to public information, the adoption of transparent policies and practices, and the reduction of the corruption risks in public management
OBSERVATORY TO FOLLOW UP ON ELECTORAL PROMISES
Red Nacional de Participación Ciudadana y Control Social Bolivia (Red PCCS) presents its initiative the Observatory to follow up on electoral promises. This Observatory monitors the proposals made during the electoral campaigns by members of the political parties.
OBSERVATORY OF ASSOCIATED SPORT
Transparency in Sports in Colombia presents The Observatory of Associated Sports, an initiative that makes public information visible in an impartial and independent manner, increasing transparency through the use of new technologies and public incidence.
ANTI-IMPUNITY AGENDA
Espacio Público presents the Anti-Impunity Agenda, a proposal of eight measures or public policies to combat impunity and corruption in #Chile. It seeks to complement the measures announced to resolve the political and social crisis that the country has been experiencing since October 2019.
THE ROLE OF CIVIL SOCIETY IN PREVENTING AND FIGHTING CORRUPTION DURIN THE COVID-19 PANDEMIC
CEDEHGE from #Ecuador presents its initiative The role of civil society in preventing and fighting corruption during the COVID-19 pandemic. This initiative entails the development of forums, seminars, conferences and webinars, to articulate the proposals for the fight against corruption among civil society, academia, the State, and international organizations, to make citizens aware of the importance of their participation in transcendental issues.
DISSEMINATION AND REFLECTION ON THE LIMA COMMITMENT THROUGH MACRO-REGIONAL WORKSHOPS AND PUBLIC FORUMS.
Through this initiative, three macro-regional workshops and one national workshop called "Agreements against Corruption: Steps to follow" were carried out. These workshops brought together 178 participants from 19 regions of Peru.
CEDICE FUTURO
Cedice Libertad presents the Program Cedice Futuro, an initiative that provides a new perspective to interconnect new technologies, the private initiative, market economy and innovation to create new ways of making public policies, as well as increase the transparency of the processes and reduce bureaucracy.
CORRUPTION AND THE GENDER APPROACH
María Eugenia Rojas Valverde Social Actor from #Bolivia shows us her study "Corruption and the Gender Approach", a research that showcases the difficulties that blocking access to information, transparency for men and women as well as the judicial, environmental, economic and political system, with a diversity of effects and impacts due to gender stereotypes.
ELECTORAL LENS
Electoral Lens is an initiative presented by Espacio Público of #Chile. This platform showcases information related to municipal elections (2016) and parliamentary and presidential elections (2017), election of constituents in May 2021 with the aim to inform, empower and involved the citizens in concrete actions.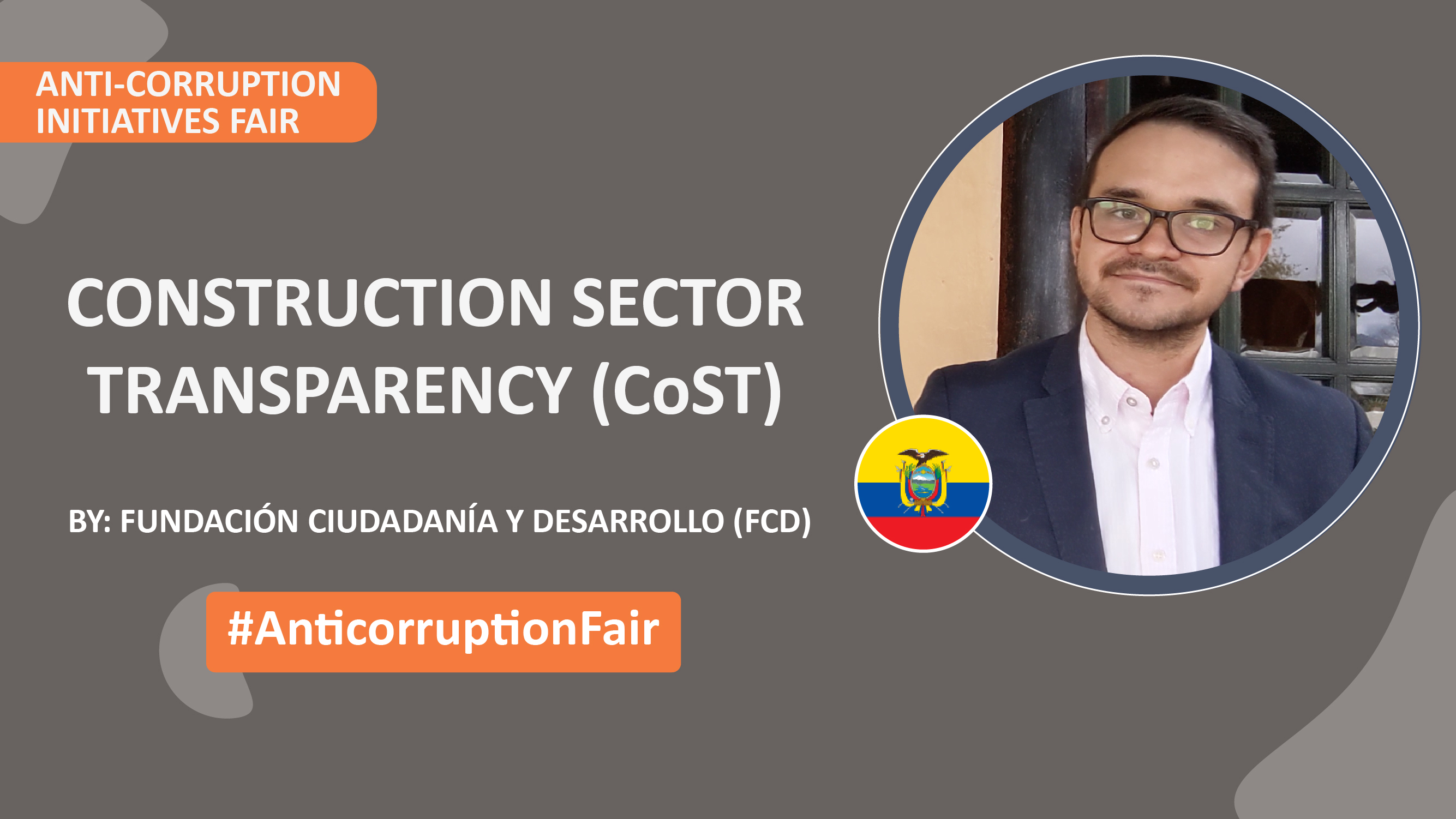 CONSTRUCTION SECTOR TRANSPARENCY (CoST)
Fundación Ciudadanía y Desarrollo (FCD) presents the initiative Construction Sector Transparency Initiative (CoST). The initiative aims to ensure the transparency of the infrastructure sector—one of the most corruption-prone areas in the world.